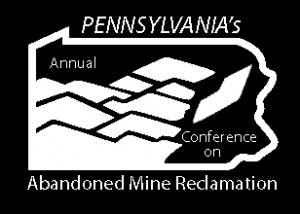 This is the 16th Annual Conference on Abandoned Mine Reclamation and quite possibly the longest running conference on this environmental cleanup effort in Pennsylvania.
With a theme of "Collaboration Is Essential", the 2014   Pennsylvania Abandoned Mine Reclamation (AMR) Conference will team up  with ARIPPA, combining efforts and audiences, to co-host a 2-day dual   conference on Abandoned Mine Reclamation and Independent Power Production.  The Conference will be at the Ramada Inn and Conference Center in State College, PA on June 26-27, 2014 and will feature not only technical presentations on Abandoned Mine Reclamation and Mine Drainage Remediation, but projects completed by Power Producers using Coal Refuse as an Alternative Energy.  Numerous networking opportunities will be scheduled and may include a happy hour, golf outing and/or a tour of Penn's Cave.
With the infusion of ARIPPA, this year, we hope to gain perspective on an industry that powers the Appalachian Region by burning waste coal and reclaiming thousands of acres of abandoned mine lands at no cost to taxpayers.  Come help ARIPPA celebrate their 25th Anniversary !
Conference Planning Committee:  The Conference is planned in cooperation with many individuals and organizations.  Without their hard work and dedication year after year the Conference would simply not exist.
Andy McAllister & Anne Daymut, WPCAMR Lead Organization
Robert Hughes & Michael Hewitt, EPCAMR Co-Lead Organization
Jeff McNelly & Cristy Doyle, ARIPPA Co-Lead Organization
Lois Uranowski, Office of Surface Mining
Donna (Carnahan) Wagner, PA DEP – Bureau of Cons. & Restoration
John Stefanko, PA DEP – Active and Abandoned Mine Operations
Glenn Florence, PA DEP – Active and Abandoned Mine Operations
Tom Grote, WPCAMR Volunteer
Tom Clark, Susquehanna River Basin Commission
Leigh Ann Kemmerer, Borton-Lawson Engineering & EPCAMR Board
Cliff Denholm, Stream Restoration, Inc.